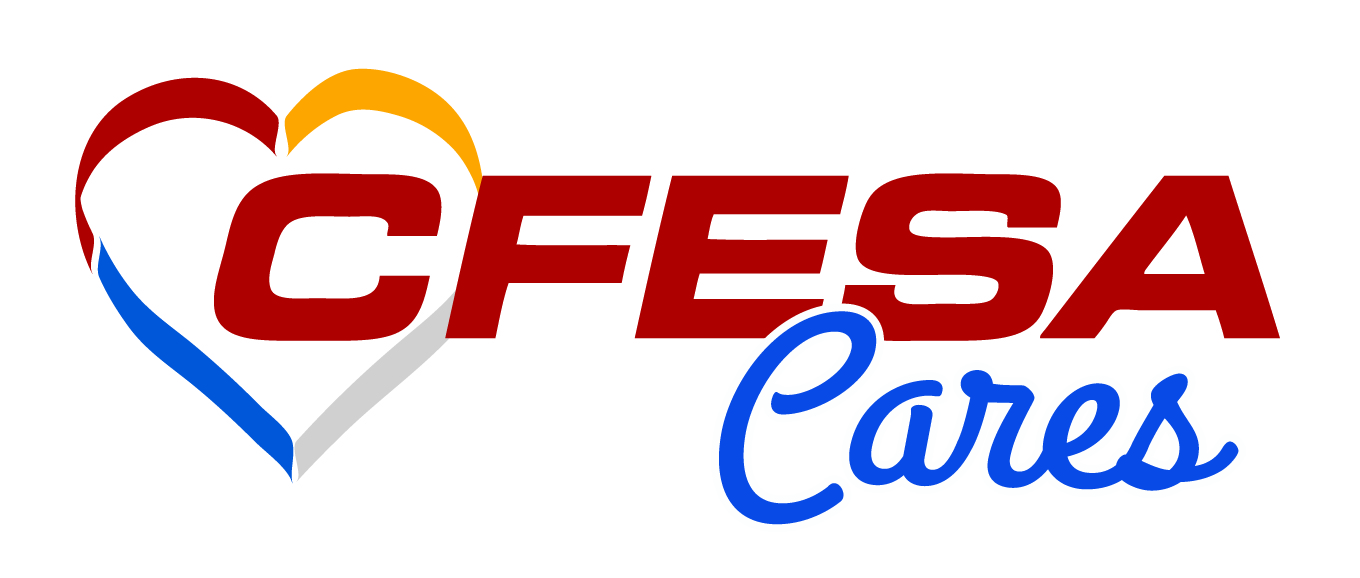 CFESA Cares is able to continue based on YOUR support.
What is CFESA Cares?
The recipient of the charitable support and service will be given a list of CFESA members who have chosen to participate in the program. The end user can call whichever CFESA member company he or she chooses. We would recommend that the end user try to work with all members on the list. Within the geographical location of the recipient's facility, CFESA member companies will be notified in advance of their opportunity to participate in the program. CFESA members, upon completion of the repair will submit an invoice to CFESA Headquarters for reimbursement. CFESA Headquarters staff will keep track of the allocated funds until funds are exhausted. CFESA Headquarters will then direct the recipient facility to their ongoing options of CFESA member companies for ongoing maintenance and support.
How long has CFESA Cares been around?
In 2012 CFESA Partnered with RFMA and donated $10,000 to the RFMA Gives program
In 2013 CFESA established CFESA Cares charity program
In 2014 CFESA Cares initiates "Boots on the Ground" campaign utilizing different regions as operating centers
What is the program goal?
As RFMA implements their RFMA Gives projects to the charitable recipient of their choice, CFESA will allocate $10,000 annually towards the ongoing support and service of the equipment installed at the recipient's location.
How do I give to CFESA Cares or find out rates?
Contact Heather Price or Justin Chew for additional information.
---
"CFESA CARES" PROGRAM Press Release
Two years ago, RFMA (Restaurant Facility Manager's Association) created a program whereby those in the foodservice industry would contribute time, money and equipment to a worthy cause. (Please visit RFMA's website for further details: www.rfmaonline.com) This year's cause was Midway Safe Harbor, a community in Sanford, Florida. This organization, in partnership with the Seminole County Public School District and many other area agencies, provides after-school programming, a foster grandparent program, health and nutrition education and a "kids' café" to more than 150 children per day, 5 days a week. In addition, they also serve meals daily throughout the summer, open as a safe place for kids, 11 hours per day. To be eligible for services, children must attend a Title 1 school (families earn $10,000 - $20,000 per year). All of the meals are currently prepared in a very small, multi-use kitchen with an all-volunteer staff. RFMA is working to expand and update the kitchen facility.
Because of RFMA's great program to give back and CFESA's involvement with RFMA over the past several years, the CFESA Board approved $10,000.00 to be used for reimbursement of service repair work performed, in conjunction with RFMA Gives.  Prior to the recent CFESA Conference, held in conjunction with NAFEM'13, an email was sent to all CFESA members located in the state of Florida as for their participation.   
Once those who chose to participate responded, their company name and contact information was given to Midway Safe Harbor.  From there, any service work Midway Safe Harbor needed, those responding participants would be directly contacted.  Upon completion of the service work, bills would be submitted to CFESA Headquarters for payment. When all funds have been exhausted, Midway Safe Harbor will have the option to use those participating companies for ongoing maintenance and support. 
We wish to applaud those who responded to this "call to action."  They are 3Wire Group, Inc. and Commercial Appliance Parts and Service, Inc.  CFESA does plan to participate in future programs with RFMA.  When a program is in your area, you will be contacted.